PSALMS IN HIS PRESENCE
Collection of the 3-year cycle of Responsorial Psalms

The composers of Songs In His Presence present a complete series of all Sunday and Feastday Psalms for Mass in Lectionary Texts approved by USCCB.

PSALMS IN HIS PRESENCE COLLECTIONS:
Feasts & Solemnities
Sundays, Year A
Sundays, Year B
Sundays, Year C

Editions available for each collection:
2-CD Set; 2.5 hours each
2-CD Set Digital Download or individual mp3s
Accompaniment Edition
Guitar/Vocal Edition
Guitar/Choral Print Edition
Choral Refrains Edition
Congregational Refrains ("Assembly Boxes")
Octavos or instrumental arrangements (select titles)



Now available, Psalms In His Presence printed Titles indexes:



In the tradition of excellence and varied styles of Songs In His Presence: Our latest collection -- beautifully prayerful and inspiring.


Each Double-CD Set is 2.5 hours in length and contains 46 expressive settings of the Responsorial Psalms from the liturgies of all the Solemnities and Feasts, and Sundays of the 3-Year (A-B-C) cycle of the Roman Catholic Church in the USA.


Settings by 8 composers, 14 cantors (soloists), and choir.


Popular at National Pastoral Musicians conventions. Musicians and directors looking for singable, memorable, inspiring responsorial Psalms are consistently enthusiastic about these quality settings and arrangements.


Most are fully metrical, song-like, carefully crafted, reflecting natural speaking rhythms.


Accompaniment editions provide pianists with a reverently elegant piano arrangement for each Psalm; organists will find them adaptable.


The Guitar/Vocal editions are useful for cantors, guitarists, and improvisatory instrumentalists.


The Choral Refrain Books provide 2, 3, or 4-part choral harmonies to each congregational response in the series.


Congregational Refrains are available for the congregation as PDFs.


The Feasts and Solemnities collection includes the renowned Psalms for the Celebration of the Easter Vigil from Christ the King Parish, Ann Arbor, and all settings for the Solemnities and Sunday Feasts which use the same Psalm and text from year to year, such as Christmas (all Masses), Ascension, Pentecost, Marian feasts, and all Solemnities. There are settings included for Masses of the Dead and the Sacrament of Marriage.

To place an order, hear sound bites, and browse our Psalms songbooks or our songs in the Saint Augustine Hymnal, go to the ILP website or call 1-888-898-SONG.
Psalm 25: Remember Your Mercies
Isaiah 12: You Will Draw Water SATB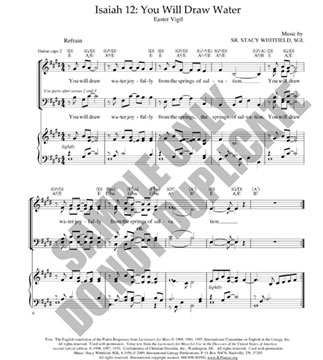 Psalm 119: Lord, I Love Your Commands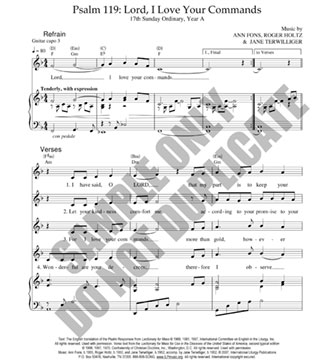 Psalm 138: Lord Your Love Is Eternal